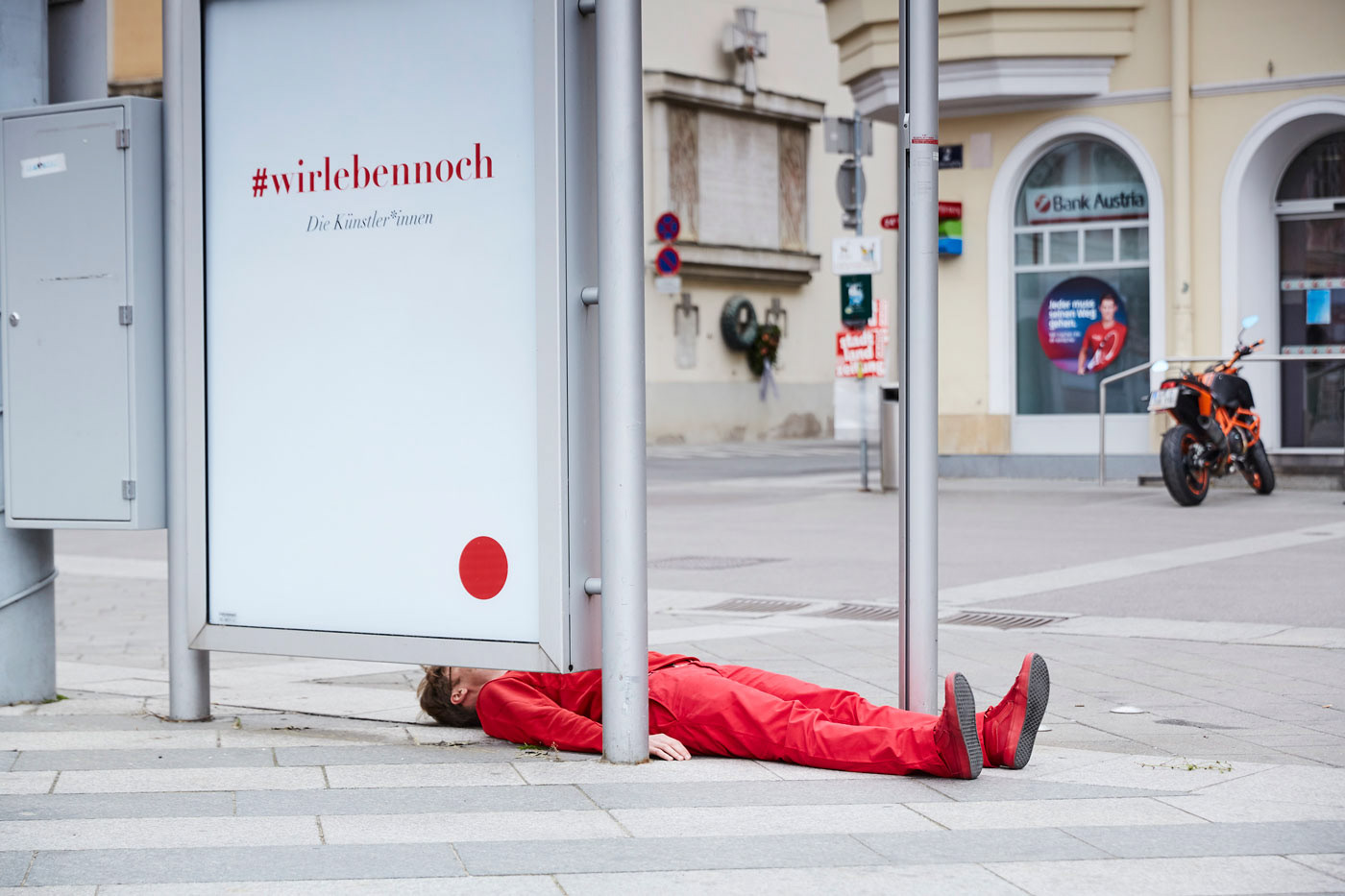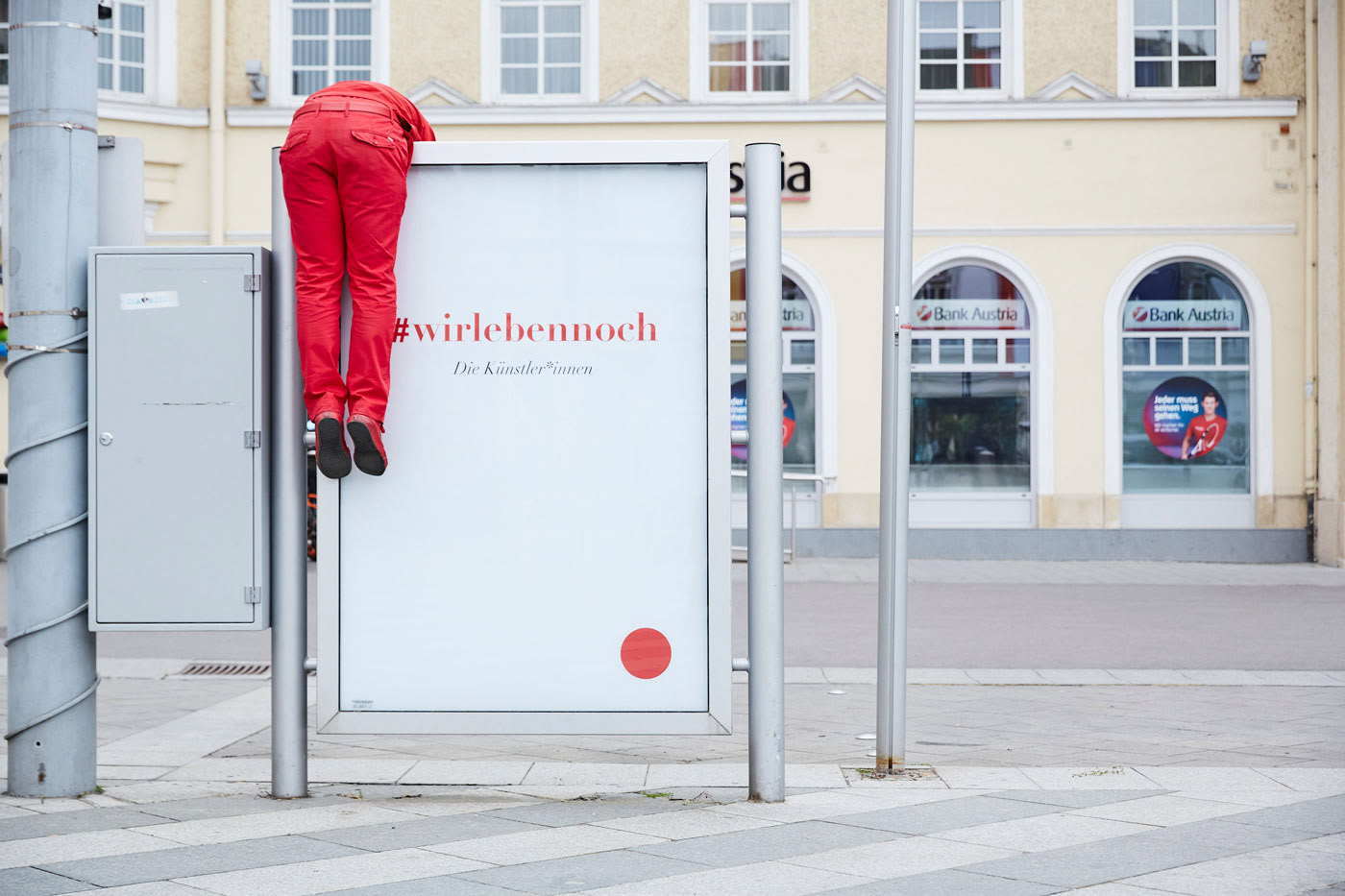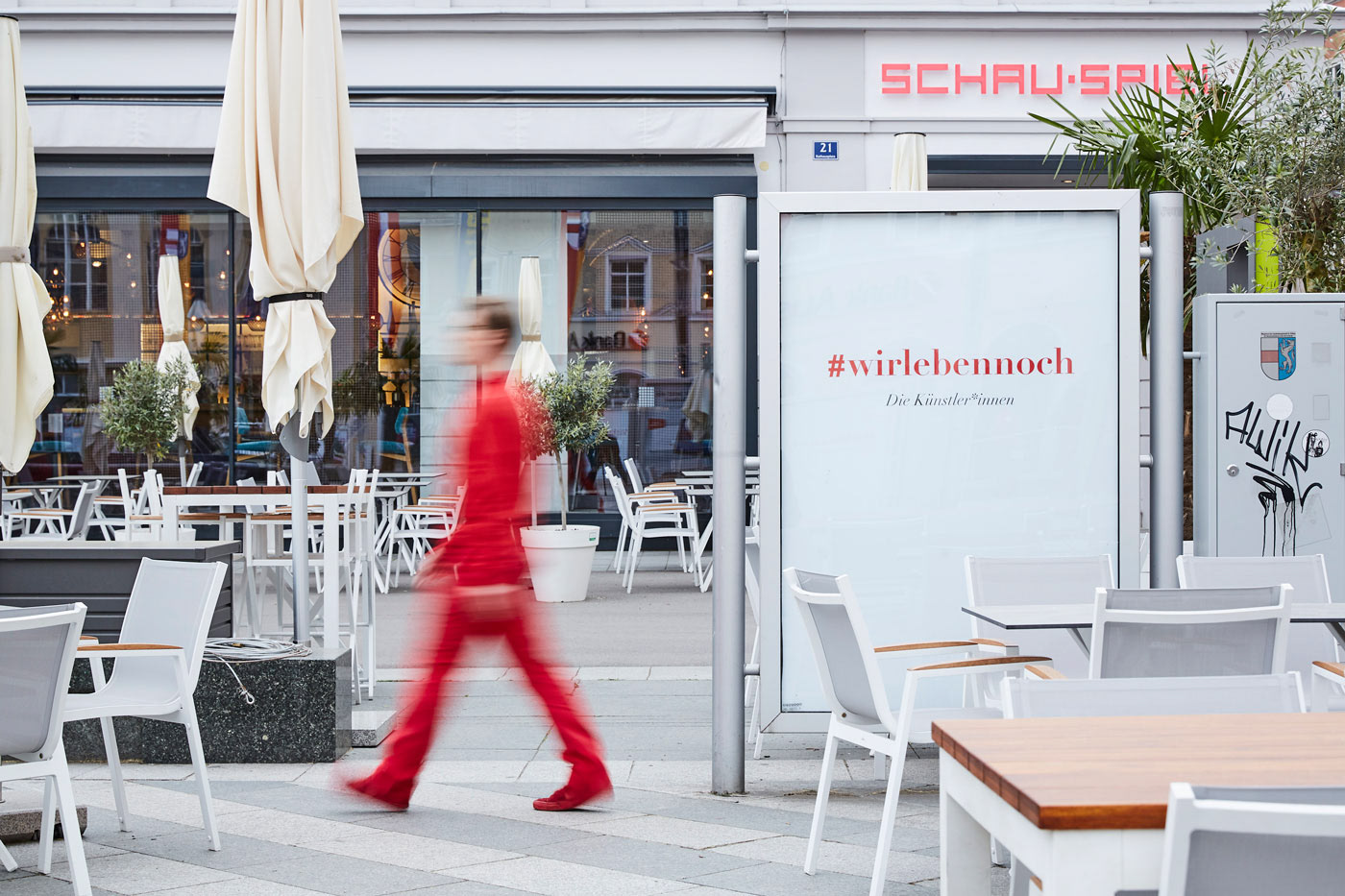 TOMORROW WE UNEARTH THE DEAD
Failed press conferences, regulations threatening our existence and the fear of what the Coronavirus and the federal government will bring us. The art world is in crisis - and this inspired the performance artist donhofer. to post obituaries from deceased artists on social media to send out signs of life. For 8 years donhofer. has been collecting obituaries from artists on news.orf.at, in order to post them on Facebook every 30 minutes for a week.  Artists should be given a voice through the performance #wirlebennoch, society should become aware that art and culture are hard work, an economic factor and food for the soul.
"Although politics seldom misses an opportunity to put the "cultural nation" emblem on Austria, I have been asking myself for a while what significance art and culture have in our country. The fact that artists are fobbed off with alms and stalling tactics, while large commercial enterprises receive disproportionately large aid payments, is in my opinion a mockery - a mockery of all artists, organizers and ultimately of all who consume art and culture.
 
With his work #wirlebennoch, donhofer. also addresses his own existence as an artist and sees in the current situation an opportunity to renegotiate the status of art and culture. "Instead of begging for donations, we artists should show solidarity and demand the value of our work. Every craftsman knows their hourly wage - why does the creative industry not know what it is worth? The crisis shows us, in all its harshness, what has been happening for years." donhofer., who, since the beginning of the initial lock down, has been organising a weekly online art exhibit under the title KUNSTdONNERSTAG is certain in his vision of representing artists: "Our art-loving visitors* appreciate what we are giving them in these difficult times. Even after the crisis they will not forget that we are still alive.


donhofer. is an Austrian performance artist and painter. Pictorial and performative elements play an important role in donhofer.'s art, the involvement of the public is also important to him. He often uses the "paint marker" style for his Pop Art works, but also works with acrylic on cardboard and canvas. 
Thematically, his art often refers to social grievances of the 21st century, which revolve around the themes of power, decadence, money and media. donhofer. became known to a wider public through his action "donhofer. lässt Gras über den Burgtheater Skandal wachsen" (lit. donhofer. , let's grass grow over the Burgtheater scandal, I.e. let the dust settle on the Burgtheater scandal) in which he laid turf in front of the Burgtheater. donhofer.s works have been shown in Bildraum 01 (Vienna), Galerie Martinetz (Cologne), AJG Gallery (Hluboka, Czech Republic), the Poster Collection Basel, Kunsthalle Vienna and Museum Galerija Portreta (Tuzla, Bosnia), among others. In 2011 in Bosnia, donhofer.s work "Children with hammer stilettos" was awarded the grand diploma of drawing at INTERBIFEP (International Biennal Festival of Portrait). 
Public purchases were made by the AJG Gallery (Hluboka, Czech Republic) and continuously by the Landessammlung Niederösterreich.
*    *    *


Verunglückte Pressekonferenzen, exzistenzbedrohende Verordnungen und die Angst, vor dem was uns das Corona-Virus und die Bundesregierung noch bescheren wird. Die Kunstwelt steckt in der Krise - und das inspiriert den Aktionskünstler donhofer. Er postet Todesmeldungen von verstorbenen Künstler*innen in den sozialen Medien, um Lebenszeichen auszusenden. 8 Jahre lang hat donhofer. Todesmeldungen von Künstler*innen auf news.orf.at gesammelt, um diese nun innerhalb von einer Woche im 30-Minutentakt via Facebook zu posten. Kunstschaffenden soll durch die Aktion #wirlebennoch eine Stimme verliehen werden, der Gesellschaft soll bewusst werden, dass Kunst und Kultur harte Arbeit, ein Wirtschaftsfaktor und geistige Nahrung sind.
"Obwohl die Politik selten eine Möglichkeit auslässt, um Österreich das Kulturnation-Pickerl aufzudrücken, frage ich mich seit einigen Tagen, welchen Stellenwert Kunst und Kultur in unserem Land hat. Dass Künstler*innen mit Almosen und Hinhaltetaktik abgespeist werden, während große Wirtschaftsunternehmen unverhältnismäßig hohe Hilfsleistungen bekommen, ist in meinen Augen eine Verhöhnung - eine Verhöhnung aller Künstler*innen, Veranstalter*innen und letzten Endes aller, die Kunst und Kultur konsumieren."
 
donhofer. thematisiert mit seiner Arbeit #wirlebennoch auch die eigene Existenz als Künstler und sieht in der aktuellen Situation eine Chance um den Stellenwert von Kunst und Kultur neu zu verhandeln. "Statt als Bittsteller um Zuwendungen zu betteln, sollten wir Künstler*innen uns solidarisieren und den Wert unserer Arbeit einfordern. Jeder Handwerker weiß, was er in der Stunde verlangen kann – warum weiß die Kreativbranche nicht, was sie wert ist? Die Krise zeigt uns jetzt in aller Härte, was schon seit Jahren passiert."
donhofer., der seit Beginn der Ausgangsbeschränkungen eine wöchentliche Online Vernissage unter dem Titel KUNSTdONNERSTAG veranstaltet, um interessante Künstler*innen zu präsentieren ist sich sicher: "Unsere kunstbegeisterten Besucher*innen wissen zu schätzen, was wir ihnen in dieser schwierigen Zeit geben. Sie werden auch nach der Krise nicht vergessen, dass wir noch leben.
Start der Aktion: 23.04.2020 | 19:00 Uhr |
www.facebook.com/artdonhofer